Hi, my name is Charles Pacheco and I live in central California. I have been building and modifying guitars and basses for a couple of years now. I guess the reason that I mod Telecasters is that they are a little more difficult to work with than a Strat, so it's a little bit of a challenge to me. I personally have a love/hate relationship with Teles; it's because they challenge me, but that's a good thing!

I've been playing music since the 5th grade, and since that time it has became my life's work. I have played in bands since high school, and am now 23. Besides playing both guitar and bass in bands, I split my time between other musical projects/work, such as live sound engineering, working in recording studios, writing music, guitar teching/repairs and other miscellaneous stuff.
This Tele is what I would call "stripped". It started life as a stock MIM; swapped the bridge for an old school, three saddle, bridge pup is a Duncan Broadcaster, pulled the switch, and installed an Electrosocket. Cut the guard from a serving set I recieved for Christmas! This baby was tuned in open Ab for the longest time, don't ask, Keef setup (5 strings, and lockers). Oh yeah, i sanded down the body, too, so it was flat black. Sadly she is out of my posession now...I traded her for a Gibson SG.
My 51-style Tele bass:
My building this guitar came about because I had snapped off the neck of my P-bass (I was being a little too "rock and roll"...oops!). I had purchased a replacement neck for it and everything was back to normal, but I had a hankering for a "new" bass, so i did a bunch of research on tone woods and settled on the combo I used: swamp ash body, wenge neck,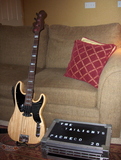 and rosewood fingerboard (with big ole blocks...yeah, baby!). The body neck and guard are Warmoth, Schaller tuners, Duncan 1/4 pup, and a Gotoh bridge. The body is finished in clear nitro. I can't remember who did the finish, but it cost me $50, and it's really nice. I'm really proud of how this bass turned out; the only thing I don't like is the bridge, and the only reason it's on this bass is because Warmoth was running a deal on the body/bridge/guard combo...so it's kinda my fault! The only thing i'm gonna do is switch the bass over to accept a Badass II bridge. This is my number one when i'm "laying down the low end".
In the near future, I will build another Tele bass. It will, however, have a maple neck, custom built pup, a pup cover, and a Badass II bridge. I will probably fab up an anodized guard for it.
My '72-style Tele Custom:
Pretty basic set up...did change a couple features, most notably the subtraction of two controls, and the custom donut ring (thanks, butnut!). The body is an alder Warmoth finished in tung oil, the neck is a no-name maple-cap neck. This is the 5th Tele it's been on! Fender bridge, Fender tuners, old Dimarzio '59 style HB (this is the 7th guitar it's been in), and a Hamel bridge pup. Pretty basic.
Projects:
I am currently working on two different Tele mod projects. One (pictured) is going to be a thinline Bigsby'd Tele with a bullet-trussroded Strat-headstocked neck. Pretty crazy stuff! Ii modified the 2k with a set of tabs so that it would hang like an HB. The body is an early 90's Fender USA body that I got for cheap and proceeded to rout out (from my own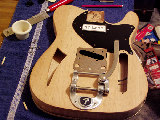 design) to convert it to a thinline. I ripped off Rickenbacker and put a cat's eye f-hole in it...thought those always looked cool as hell. Will receive a custom-wound Hamel for the bridge when it's done. The Bigsby was modified by Alan Hamel, the same as on Carl Perkin's "Go Cat Go" Tele (which Alan built for him)...probably will be sparkle blue when completed.
The other Tele is at the moment in the prototype stage of completion. All I'll say is that i'm working on a custom bridge for it, and it's my tribute to one of my influences, Neil Young.
Thanks for taking a look. I'd be glad to answer any questions you have about any of my guitars, or receive feedback on them also.
"keep on rockin' in the freeworld"