My name is Gavin Fraser and I live in Oxfordshire in the UK. I am about to return to university in September as an architecture student after having worked within the construction industry for a number of years after my first attempt at university!
I am currently between bands as I have not long moved to the area but I am hoping that when I start at university there will be lots of opportunities to get with a band and get gigging!
I love many different kinds of music but fundamentally, it's good ol' Rock 'n' Roll which floats my boat. I mainly like raunchy players with flair, originality but which aren't necessarily surgically precise. People like Jimmy Page and Neil Young of whom I have been a big fan of for many years.
Anyway, that's enough about me and leads me nicely onto my modded Tele, the Shakey-Caster! As I mentioned I am a big fan of Neil Young and have always loved the look and sound of his main axe, "Old Black". I have however also been a Tele owner and advocate since my very first electric guitar, and so it came to
me over several months consideration that it would be very cool to combine elements of Old Black with a Telecaster and so create a new and unique guitar that is both a testament to one of my heroes, but which would also help me shape my own sound. This guitar is the Shakey-Caster.
After some consideration I decided upon using a Fender Telecaster Deluxe '72 RI as the base guitar. This obviously has the advantages of having a similar control layout to a Les Paul with separate controls for the neck and bridge pickup. This offered me the same control as Mr. Young's guitar and also provides a "nod" stylistically too. I decided against a black model as I thought it would be too similar and I wanted my own guitar. I had also fancied a guitar in sunburst for quite a while.
Ok, so hardware wise to tie in with Old Black I obviously needed a Bigsby, an item I had toyed with the idea of for years with my other Tele, I finally had an excuse to get one and I love it! I opted for a Bigsby "F" logo model as I thought it would look smart on a Fender guitar. I obviously also needed a new bridge and a Fender Mustang bridge was recommended to me. I went for it and it does a great job.
In the neck pickup position I have used a Bare Knuckle Pickups P-90 with a chrome cover and in the bridge I have a Seymour Duncan Antiquity II Firebird pickup. Both sound fantastic although the output from the P-90 is slightly higher than that from the Firebird pickup. If I have the neck volume rolled down to about 8 it matches up nicely, I then have a bit of room for a volume boost too.
Neil Young also has a mini toggle switch for coil-tapping the bridge pickup. I have this fitted too and also a second mini toggle switch for in/out phase on both pickups. I had Bare Knuckle tap the coil of the Firebird pickup and although it works, the effect is not great with quite a loss of output. I can get some cool tones however. The Phase switch only has a very minor effect, m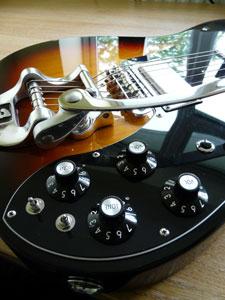 uch like the coil tapping I just don't think these pickups are "geared up" for that kind of functionality. Still, the switches look cool! I have also had a little black momentary switch installed as a "kill" switch, cutting the output signal when pressed.
I have had the nut replaced with a Graphtec nut to assist with tuning stability with the Bigsby. It does a fantastic job and the guitar holds tuning brilliantly. Only with severe whammy abuse do the strings slightly lose tuning.
The guitar has also been shielded to assist with reducing noise. I also upgraded the stock jack socket and toggle switch. In case you were wondering the scratchplate is an aftermarket example I bought without any holes for pickups cut, they were cut during construction of the guitar.
So, there we are! I love this guitar and I still get a huge grin whenever I pick it up to play it!
Finally, I just wanted to say thanks for your great site. It was only after I discovered it that I was really spurred on to eventually mod my own Tele. There are some amazing and inspirational guitars out there! Also, I am not skilled enough to have undertaken this work and I sent it off to a guitar tech named Steve Robinson (www.manchesterguitartech.co.uk/) he did a fantastic job and was endlessly patient with me emailing every five minutes tracking progress and changing my mind about things. Lastly, the "Thrashers Wheat" website has lots of really cool info and Neil Young's guitars and other equipment, this info was indispensable when planning the Shakey-Caster. Here's a link to the site: www.thrasherswheat.org/sound.htm
All the best for the future and keep up the good work with the website!
Kindest Regards, Gavin Fraser