Here is an old picture of my Teles, the Elite as I got it, The StereOcaster, my 68 Tele and the 62 RI MIJ I speak so highly of...

Hi, my name is Mark and I'm lefty guitar player and collector of sorts. I have a bunch of guitars both old and new and I do my best to play them all. I bought my first decent guitar many years ago in New York City. It was new 1977 Fender Stratocaster I bought in 1978. Years later, I purchased my first Tele. It's a 62 Custom Reissue (MIJ) that I also bought in NYC. At the time I was told that Fender wasn't making anymore left handed Telecasters stateside. I was so impressed with the 62 RI that I was willing to dispel my previous misconceptions about Japanese Fenders and buy it.
My good friend Scott (also a lefty guitar player and owner of many left handed guitars) and I are always swapping ideas for new and different guitars as well as cajoling each other to take the eBay plunge. I was pondering the thought of putting a bigsby on the 62 RI Tele but decided that if I couldn't get a true Fender "F" bigsby (left-handed of course) then I didn't want to mess with an otherwise perfect guitar.
Mentioning the possibility of building something from the ground up to my friend Scott prompted him to show me one of his Tele creations with two Gretsch FilterTrons and I got to thinking. I decided it was time to build a guitar with all of the best features I could fit in one package. The Amazing StereOcaster is conceived. This is admittedly an "over the top" creation with way more form and function than any one guitar player needs. Here are the details:
The neck and body were made flawlessly by Warmoth Guitars. The body a Fender Thinline style. The strat style neck is a 12" radius to work with the tune-o-matic bridge. The neck scale is 25.5". The three pick-ups are Gretsch FilterTrons. Each pick-up has a concentric volume and tone knob as well as a mustang switch to assign output to either left or right jack output on the Rickenbacker jack plate. There is also a master vol/tone control for the main (left) output. Sperzel tuners, graph-tech nut and string trees work well to keep the guitar in tune for maximum Bigsby vibrato action. The Lovely Lady on the headstock was a decal provide to me by a friend. Warmoth was kind enough to put that on before the amber finish.
Plug this baby into two different amps, assign the pick-ups anyway you want and you are on your way to some serious "surround sound" ! It is a total blast to play in stereo. Practical? No way! Heavy? Indeed! Amazing Stereo sound? Indeed… Hence the name "The Amazing StereOcaster"!
Also, featured here is a "too cheap to pass up and left for dead on eBay" 1983 Telecaster Elite that a previous owner saw fit to customize. When I bought this, it had already had it's white plastic
Fender Humbuckers surgically replaced by a Seymour quarter pounder Tele pick-up and a Seymour vintage style two wire mini-humbucker. Curiously, the active electronics were left intact. The result of these much hotter pick-ups with an active boost was distortion galore with plenty-O-midrange. After quickly giving up hope of finding the original pick-ups I decided to replace all of the guts with two Seymour Duncan 4-wire mini humbuckers (also found on eBay) and 4 new push/pull pots. Using a wiring diagram on the Seymour Duncan web site, I wired the Elite for humbucking (series or parallel) or splitting either or both pick-ups via the four push/pull pots. This was a fun and relatively inexpensive remedy for someone else's bad idea (IMHO, anyway). I am pondering whether or not to add a customized pickguard to cover up those unsightly holes around the mini's. Maybe something derivative of a typical Fender shape or something off the wall. When I decide, I will surely go to Chandler since they done nice work for various other pickguards I've requested. Clearly, this is not your "Father's Telecaster", but a Tele, nonetheless. Again, too many tone choices for any one guy!
These days I do manage to get out and play in a pseudo rockabilly combo with friends from time to time. And I'm always scouring eBay for new ideas and other folk's mistakes. If you fellow Telemodders will indulge me for digressing I have included some photos of my latest customization. I bring you the StratOvarious!
Essentially an American Standard Strat (NOS, which in the lefty world means "new" but moved/neglected and tossed around the store for years resulting in a pseudo not quite relic-like affect), I had a pickguard made by Chandler, added some holes for three mustang switches to turn each or any of the single coil sized Humbuckers on/off or tapped for a single coil tone. The result? You need a driver's license to play this thing. As if that wasn't complicated enough, I replaced the middle tone control with a Torres midrange cut kit. The bottom tone knob acts as a master. Lastly, I replaced the Schaller tuners with Sperzel locking tuners for better tuning stability. Well that's it for now and thanks for looking! If you'd would like to see more left-handed guitars, feel free to visit

www.marksguitars.com.

Baritone Telecaster Guitar (aka The BariTele);
completed Nov/2003.

My latest project was this cool left-handed baritone Telecaster. This began with an inexpensive Telecaster style body I bought on eBay for $125. It was already painted this cool blue. The seller on eBay is Customwoods and they have some nice guitar necks and bodies on there from time to time. The quality and paint was really great and the price was even better. The neck is a Warmoth baritone conversion neck. The idea here is that the neck will bolt onto any standard tele body and scale to 28 5/8". They have done all the math and so a standard bridge will compensate just fine with the new longer neck. The tuners were from one of my American standard Strats. Most of the other parts are Fender including the neckplate, control plate, knobs, switch etc. The bridge and neck pickup plate are from

www.stewmac.com . The pickups are American '52 reissue pickups and they sound really good. This guitar is tuned to down from standard tuning to B E A D F# B (low to high). I worked out a whole spread sheet on the various tunings, string gauges etc. I have D'Addario EJ21 (12's) on this guitar now but am pondering a heavier set of strings. Maybe a set of Fender subsonics since they start the same as the D'Addarios but get heavier on the lower strings.

The chrome theme worked out nicely. I have to come clean on this though. Because the Warmoth conversion neck overlaps the neck pocket on three sides it is tricky to fit a stock tele pickguard on without trimming away the neck cutout. Ok so here's my confession. I ruined a nice Fender parchment guard with the old dremel tool. This is why I won't go near wood work... ;-) Well at least my mistake turned into a really nice design idea. I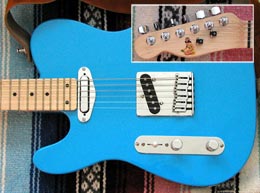 searched on the many guitar sites out there and stumbled on the neck pickup ring at Stewart Macdonald. It fit perfectly and actually keeps the chrome theme going. Also it lets more of this wild blue paint be visible.
Unfortunately, unlike when I ordered my StereoCaster neck, Warmoth is no longer allowed to apply decals of any kind where the Fender logo would be on a Fender licensed neck. This is lame and I don't think anyone would mistake this cute hula gal for a Fender logo. Oh well, while I run from wood work and painting, this much I could do.