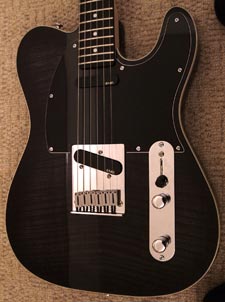 I'm Adam Hudson from Nottingham, England. I'm only playing for pleasure and do a little bit for the odd covers band. Hope you like my favourite Tele...it's a WD maple/ebony neck with a one-off flamed and bound body, American Standard bridge, EMG actives and locking tuners. It took 3 months to build but well worth it!
I have a couple of projects on the go, too...a relic GR custom body with a Birdseye maple neck and a Richie Kotzen replica (The Richie Kotzen model has a fat neck and gold hardware, neither of which are to my taste) I'll post pictures of both when they're finished.
I also have an '84 blonde and a '96 sunburst, both USA models. You could say I've got the Tele bug bad...