My name is Kent Holmes. I currently play guitar and sing for a band called "Sleek Month" (which can be seen and heard here: http://www.myspace.com/sleekmonth). I also play guitar for, and occasionally sing in, a country band called "Dead Horse" (http://www.myspace.com/thathorseisdead).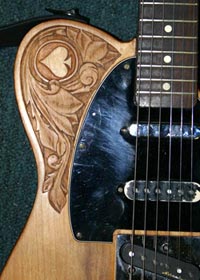 When I was a kid in the '80s, I was a guitar tech for my first seven years out of high school (mainly with L.A. Guns and Poison). That gave me a crash course in basic guitar maintenence, repair and modding. (You have no idea how many times a guitarist on coke wants to have his speakers/pickups/amps changed out! Be thankful you don't know!)
From the early '90s on, I've been playing in my own bands, usually with a Tele or two in the arsenal.
My favorite was a 1991 Tele Plus Deluxe, the lace sensor one, black with white binding that I bought from a friend who was selling off the guitarist from Ratt's guitars for him for heroin money. It got stolen in '95. I have never seen another like it (that being a Plus with binding).
Anyway, here are three Teles I have messed with recently...I'd like to apologize to the collectors and faint-hearted in advance. These are working guitars, so no polish, and lots of dings and dirt.
The first is pretty simple. It's a sunburst Nashville Power Tele. It has Fender Custom Shop Texas Specials in the bridge and middle, and I put a Seymour Duncan P90 in the neck. I also did a belly-cut on this guitar and equipped it with an Earvana compensated nut. It's pretty sweet now.