My name is André Mattos. I live in Rio de Janeiro, Brazil. I'm a musician and forester. We play quite rockabilly, surf music, blues, jazz, country and samba, all mixed together!
TelesPaul and Simp-O-Caster
My first Telecaster was bought 16 years ago. Today I have 5 Telecasters, all modded.Here are two vprojects which I think were very good.
The first, we call TELESPAUL. Body and neck of Telecaster and all hardware are Gibson Les Paul. It was entirely assembled by the great luthier, Solon Fishbone, working in southern Brazil. The idea was to have a telecaster, light with good woods, with the sound of Gibson Les Paul. After assembled, his sound was identical to a Gibson 335 !! The only modification to the original electrical design of the Les Paul was the withdrawal of a volume pot. I gave her as a birthday gift to my brother, Daniel.
Features:
Body: thinline design, ash & maple
Neck: C shape, maple
Pickups: Golden Gibson Burstbuckers
Pots, jack, switch, etc: Gibson
Tuners: Fender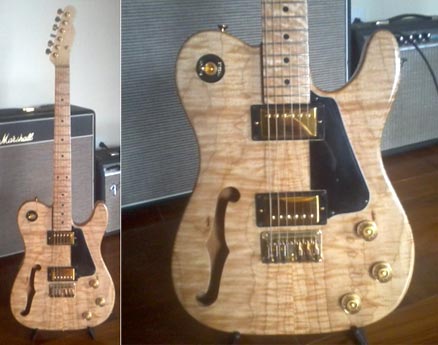 The second Telecaster, we call SIMP-O-CASTER. Minimalism to the extreme. Two pots (the tone pot is embedded in the cavity of the pots), no switch. Only one Lindy Fralin pickup. The best Tele twang that I heard in my life. Whoever plays her does not believe that such simplicity has such a really cool sound! C Shape Neck on Brasilian Rosewood and body on Brazilian Mahogany.