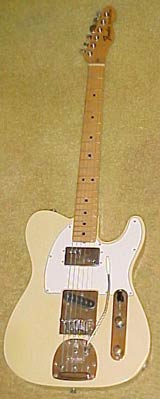 Back in the Fall of 1968, my "other" guitar was a natural-finish Gibson ES-345TDN, and I wanted a tremolo, so the Tele was "it." Since, "I" was the service manager at the music store, I got to "do" my own installation of the "dealer-installed" Fender/Bigsby Tremolo Kit onto my Tele...that was two 1/2" holes for the bridge thimbles...at that point she was no longer "virgin." So, when I had to "route" the body to add the Gibson mini-HB, it wasn't as "traumatic" an event as hindsight would have you believe...same thing (again) when the pickup "rout" had to be "enlarged" to accept the Fender/Seth Lover HB. By the time I got around to pulling the Bigsby (and my hair out!) over bridge and intonation problems, it was almost a "God send" that everything actually now worked, so routing for the Jazzmaster tremolo unit wasn't hard to do. Of course, in hindsight, I probably wouldn't do it AGAIN, but that's past and prolog. She's ALL Fender parts and works fine, and looks almost 9.9/10 mint condition (I take VERY good care of all my equipment). Being a service tech and manager for three different Fender dealers ('66-'72) had its benefits, such as product availability before public knowledge (ie: '72 Seth Lover pup in late '71); also parts at cost...back then Fender was 50% cost, 100% sell, Gibson was 60% cost, 100% sell.
Tele#1:
1968 purchased new, blond Fender Tele with maple neck
1968 added "dealer-installed" Fender/Bigsby kit (still have instructions)
1970 added neck Gibson mini-HB pickup
1971 swapped Gibson for Fender/Seth Lover "wide-range" HB pickup
1972 replaced Bigsby and "floating bridge" with Fender Jazzmaster tremolo unit
1973 installed Grover 16:1 tuning keys
Serial number: 225865 (still have store receipt!)
Weight: about 9.5 lbs!
Tele#2:
1986 Warmoth (neck & body) Telecaster, front/back contours (ala' Strat)
1986 Seymour-Duncan "stacked" HB neck pickup
1986 Selmer (German) bridge pickup (Stew-Mac)
1986 dual-concentric Vol/Tone controls (Warmoth; ala' Jazz bass)
2003 added WD/"Bad Ass" 6-piece bridge assembly