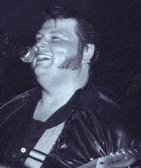 Hi, my name is Danny Thompson
and I live in Indianapolis. I've had the privilege of making my living with a guitar for the past 22 years. My first Telecaster was a '73 Tele Deluxe and I've been hooked ever since!

I'm in a rockabilly band in Indianapolis called "Bigger Than ELVIS", (our website is www.biggerthanelvis.com) and my wife and I also perform together in an acoustic duo. My favorite guitar players are Danny Gatton, Scotty Moore, and Angus Young.

The main modifications I make to my Telecasters are pickup and parts swaps. I have Joe Barden pickups in most of my Telecasters. I always use compensated brass saddles and immediately put them on any new addition to the family. I feel they are a must for any Tele picker serious about intonation and absolutely love them.