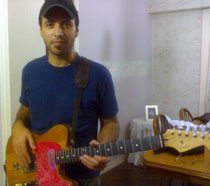 Hey, there! my name its Martin Harispe and I'm a session player from Buenos Aires Argentina. I REALLY like your website, so I'm sending you some photos of my Tele.
This is a gotto Body with a early '90s Fender Stratocaster neck. I made a custom external B-Bender that works the same as the Parsons/White and a G-Bender thats works same as Parsons/White.
It's wiring is based on the late Danny Gatton's Tele with the 1M tone pot for 'wha' effect.
The pickups are Fender RI '62s for Stratocaster and the volume pot its limited to get the perfect tone from the pickups.
Thanks!
Martin Harispe

http://martinharispe.com.ar