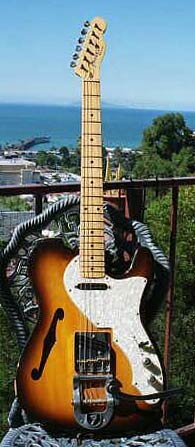 Around 1990, I fell under the spell of Telecasters. Despite my adoration of all things Danny Gatton, the real reason I started playing a Tele exclusively was seeing G.E. Smith playing his 53 blackguard on Saturday NIght Live. That Tele sound against the horns and Hammond was enough to push me over the top.
At the time, I was playing rockabilly on Gibson archtops. One day at a local vintage ship, I spied a sunburst Thinline. What a nice bridge into Fenderland. I really liked it, but I liked the v-neck of another (mid to late 50's) Tele in the shop also. Wouldn't it be great, I dreamed, if I could take the 50's v-neck and bolt it onto the Thinline body? Unfortunately, I couldn't afford either guitar, yet alone both.
An idea struck me - a parts guitar! It was tough finding a Thinline body and a v-neck back then (much easier now), but slowly my buddy, who was the local guitar tech, and I tracked all the parts down. I wanted to give Bardens a try, so this became a poor man's Gatton Thinline. We also wanted to combine all the great Tele features throughout the years into a single instrument.
The neck I believe we found from WD. I had a '57 Fender Musicmaster with the best v-neck I had ever felt. We got the profile shaper and belt sander out, slowly forming this neck to match the v-profile of the Musicmaster. Slotted Kluson's were a necessity, as they are my favorite tuners.
The body and pickguard came from Chandler I think. It came in two parts, alder back and sides and a spruce top. Like I mentioned, we didn't have all the choices of wood back then like they have now. A three piece bridge with brass saddles and traditional Tele jack cup came from Stew-Mac, while the vintage Tele knobs were bought from Seymour Duncan at the Pomona, CA vintage guitar show.
There was a another guitar builder up the coast who does fine finish and custom from scratch work. We decided to let him route the f-hole, attach the top, and spray it with nitrocellulouse lacquer. Thinking the top might be a little weak to support the Bigbsy, I had him attach a reinforcement spruce plate under the Bigsby area. I had not found the Bisgby yet, but I knew something would come along.
I took along a borrowed 56 P-Bass to show him the 2-color 50's sunburst I wanted. I also instructed him to finish it lightly so it would wear quickly. I love the look of a beat-up guitar. My buddy suggested we give him all the parts we had collected in case he needed to measure for them.
It took him almost a year to complete the finish work. In anticipation of the Bardens, I dumped a Duncan Hot Rail into a Fender 62 Telecaster Custom RI. I knew the rosewood board and Duncan pickup would be darker than the Thinline, so I started referring to the two guitars as Kane and Able. I knew Able would be the sweeter sounding of the two.
On June 24, 1993, I went to pick the parts up. To my surpirse, he had assembled, wired, and strung it up! Able the Beauty! We hotfooted it down to the local emporium and plugged into a blackface Fender Vibroverb. At first I was a little dissappointed because it sounded so thin. Many players feel this way when first trying out Bardens. They are very demanding pickups. Once you get the hang of them, they are great. I was gigging with that guitar as my main instrument by the next weekend.
I did finally find the old "F" Bigsby in the local trading paper. It came with a really flimsy spring, but I got a proper Bigsby Spring from American Guitar Center in Wheaton, MD. It took a while to get the Bigsby on. I had noticed on Teles equipped with Parsons-White Benders that a little notch could be cut to allow a string to pass through the back lip. It stood to reason that we could notch out that whole back lip area to accomodate the Bigsby. There was a local shop, Frontline Drum, whose proprietor did a lot of custom metal work and fabricated hardware. He also loves Teles. I told him what I wanted, notching the back for the Bigsby and the treble edge to facilitate fingerpicking. This cutout is called "the Gatton Notch", as it is also featured on the Gatton signature Tele, as well as the current production Vintique and Joe Barden bridges.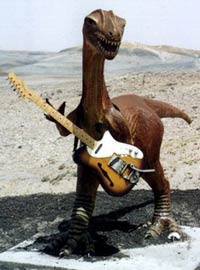 I finally put the bridge & Bigsby parts all together in the Spring of 1997. It worked great and sounded cool, almost Cliff Gallup-like in the center position. I lubricate the bridge saddles and nut with Break-Free, a gun oil that contains teflon. I learned that trick from Eric Johnson's tech. I never have any tuning difficulties.
In 2002, I purchased some compensated saddles from Stew-Mac and rigged them up onto Able. I didn't have many intonation problems before, but this really dialed it in.
A poor man's Gatton-50's-Thinline! It's pretty beat up, having been schlepped all over the country, and everybody enjoys playing it (even the dinosaurs at the Petrified Forest in Arizona!).